Site alarms & detection
All non-domestic buildings are required to have an adequate means of warning people in the event of fire.
In a small building this need not be an electrical fire alarm system, but could be a manually operated device such as a rotary hand bell provided it can be heard everywhere in the building when it is operated.
Rotary Hand Bell
Tried and tested robust design
Bell sounds 60db alarm at up to 35 metres
Diecast aluminium
Pre-drilled flange for simple installation
---
Gas Horns
Ideal for providing temporary cover or construction sites applications
Acoustic range of approximately 1500m
Refill canisters available
Non-flammable gas
Also available; Megaphones, Mouth Horns and Emergency Whistles.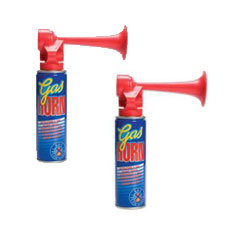 ---
Megalarm
The Megalarm provides an effective and easy to install alternative to a fully wired alarm system. Powered by a 9V battery and featuring a low battery warning.
It is easy to operate in an emergency and simple to reset after the alarm has been sounded. It has a powerful 90db siren and can be interlinked.
Robust and durable ABS plastic housing
Powerful siren sounding 90db at 2m
Battery powered for easy installation
Resettable callpoint
Low battery warning signal
Supplied with battery
---
Howler Site Alarms
Providing a rapid means of raising the alarm in an emergency.
Suitable for indoors or outdoors
118db siren
Powered by a 9V battery
Supplied with battery
Available with three different switch configurations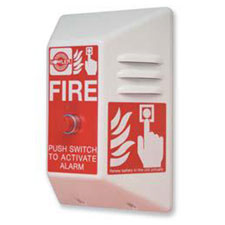 ---
Heavy Duty Howler Site Alarms
Virtually indestructible aluminium body
Available with three different switch configurations
Inter-linkable units available
Integral strobe available for noisy environments
Suitable for indoor and outdoor use
120db siren volume
Powered by a 9V battery (supplied)
---
Smoke Detectors
From basic smoke detectors to models with built in lights, models which are inter-linkable and models which have a 5 year battery life.
---
Carbon Monoxide Detectors
You can not see it, hear it or smell it. If you use gas appliances fit a Carbon Monoxide detector.
Also available CO Detecting Dots low cost protection For up to a year.
---
Deafgard
Under the mandatory terms of the Discrimination Act (DDA) which came effective 1st October 2004, all owners of commercial and public buildings are required to make adequate provision for the needs of the deaf and hard of hearing.
Deafgard offers the latest wire-free technology to ensure a safe, reliable and portable solution for communicating the sounding of the fire alarm to all guests whose hearing is impaired.
Wire free
Automatically activates when fire alarm sounds
High-intensity flashing strobe provides visual indicator
Under pillow pad vibrates to awaken guests
Incorporates alarm clock facility
Ensures full compliance with DDA recommendations
Ideal for Hotels, Care Homes and other sleeping risk applications
Also available; Fire Alarm Systems, Fire Detection Systems, Accessories
---
For more information or to make an appointment please contact us.